When I started the Trains for Europe project a little over 6 months ago, I had identified the key problem – that the main barrier to scaling up night trains in Europe was the absence of the trains themselves. To get more night trains onto Europe's rails, someone has to make an order for some new night trains. I did not at that stage know why no railway company, with the exception of ÖBB, had taken that leap.
In the past half a year a few things have happened. There have been rumblings in France, Italy, Sweden and Norway about placing orders for new trains – for national routes. And the European Commission released its Rail Action Plan in December, and the European Investment Bank (EIB) Green Rail Investment Platform.
The loans the EIB would be ready to provide essentially mean that all the criteria for a leasing company solution to the night train rolling stock problem we outline here are now fulfilled. If a night train operator approached a leasing company (firms like Railpool, Beacon, Alpha Trains, RDC etc.) and said "order us these night train carriages, and then when they are built, lease them to us", then I am pretty sure that the leasing companies would be ready to do that. This is the sort of setup that has just been agreed to finance new regional trains that will operator north of Berlin.
But then comes the problem.
Who wants to take the leap of faith?
Leasing companies – without any certainty about who might use any night train carriages they could order – are not going to place an order on their own. Locomotives are much easier – if the up to 100 200km/h Vectron locomotives Railpool will order from Siemens do not work passenger trains they can be deployed for freight. Night train carriages are harder to redeploy for another purpose. And the calculation for leasing companies is compounded by the scale problem – the cost per carriage will be lower if a large order is placed. But taking a risk to order upwards of 200 carriages is much larger than ordering 50 carriages.
No operators really want to make a leap of faith either. The big exception to the rule is ÖBB – with the backing of the Austrian state and its solid partnership with SBB, ÖBB has placed an order for a total of 33 7 carriage new NightJet trains that will begin to run from December of 2022. So Austria, Switzerland, Southern Germany and Northern Italy will hence be well served by night trains in the coming years. But ÖBB is not about to start running Amsterdam-Marseille, Köln-Warszawa or Paris-Venezia. So who will?
The answer at the moment is, sadly, that no firm wants to or can.
Among the publicly owned railways, SNCF and DB, and to a lesser extent SNCB and NS, are providing minimal assistance to help ÖBB expand NightJets to France, Germany, Belgium and Netherlands. But these companies have shown no aspiration to really expand their international night train offer. Renfe has no interest in night trains in Spain, nor does Trenitalia in Italy (only national services in Italy remain politically important). Beyond that smaller publicly owned railways – PKP, ČD, MÁV, SJ, DSB, ZSSK, CFR etc. – will continue to run the few lines they still operate, and will make some minor investments to improve existing rolling stock.
The picture among private companies is little better. European Sleeper is a herculean effort to run a night train every other day between Brussels and Amsterdam, and Berlin and Prague – and when it does run the service is going to likely have only couchette cars – not more comfortable sleeping cars that would appeal to business travellers. RegioJet (who provide the rolling stock for European Sleeper) and Snälltåget fall into the same category – they make the best use they can of 40-odd year old couchette carriages, but cannot get hold of any more old stock for expansion (as there is not any more to be had) but lack the financial clout to be able to plan a order of new stock. Snälltåget is even up for sale. At the other end of the spectrum the startup bros of Midnight Trains have a compelling story to tell, and major financial backing, but do not look like they have an operational model for night trains that works. Flixtrain (with their budget segment), and WestBahn and Italo (with their premium intercity services) have no interest in night trains.
And so that means the only actors with a strong agenda at the moment are states – especially France with its national night train plans, and to some extent Sweden, Italy and Norway. The EU – that sees all of this still as essentially a "let the market solve it" problem, and states where night trains are not a political priority (Germany in particular), results in little happening.
Finance to order new night train carriages is available.
Running night trains at a small profit is possible, and could look better still if the Commission does manage to reduce track access charges.
But where is the will?
Which company or companies are ready to stand up and say "YES! There is a social need here and a business case. We're going to place an order for new night trains, and do for other parts of Europe what ÖBB has managed to do for the part it serves."
Photos used in this post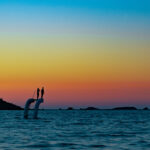 james sensor
Sunset on the diving board – Carantec
July 9, 2019
Attribution-NonCommercial 2.0 Generic (CC BY-NC 2.0)