Speed
The minimum requirement for a modern night train in Europe would be for it to run at 200km/h.
However ÖBB's new NightJet trains – due to be launched in December 2022 – have a maximum speed of 230km/h. The problem is that above 200km/h the technical requirements – in terms of coupling between carriages, and pressurisation and crash safety of vehicles, changes markedly. In Phase II of the campaign we will determine whether procurement of 230km/h trains makes more sense than 200km/h.
250km/h and above would have the advantage of allowing a night train to run on high speed lines as well as conventional lines – especially high speed lines in Spain, Italy and France where mixing of different speed trains is not as prevalent as in Germany or Austria. However no high speed night trains exist in Europe, and the cost to procure any would be considerable. The only country in the world with genuinely high speed night trains is China – read more about those here. This is a Chinese high speed CRH2E night train, capable of 250km/h: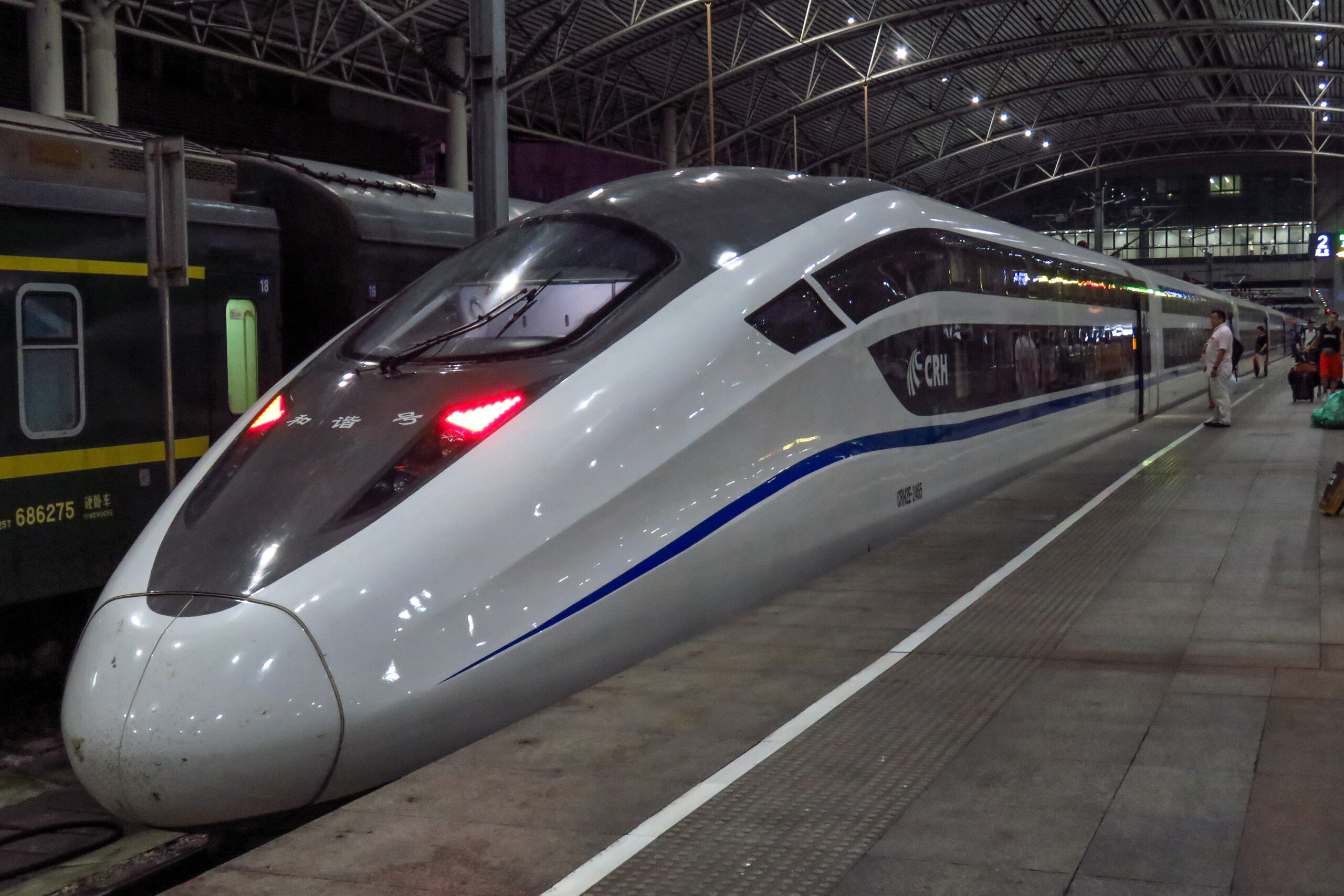 Gauge changing
The focus of Trains for Europe is on standard gauge railways in Europe. But that rules out night trains to Portugal and Spain (both use 1668mm Iberian gauge), and to Finland, Estonia, Latvia, Lithuania, Belarus, Ukraine, Moldova and Russia (all use 1520mm gauge). Four main systems to change the gauge of a train's wheels exist – developed by Talgo, CAF, DBAG/Rafil and PKP (SUW 2000) – that could potentially be used to solve this problem, although each is not without its downsides. The DBAG/Rafil and PKP systems have a maximum speed of 160km/h for the vehicle – hardly ideal. Stadler's night trains for Turkey-Georgia use the Rafil system. Talgo's system is adapted for Talgo's own articulated coaches, so would not be an option unless that manufacturer also built the vehicles. CAF's system would probably offer the best all round solution, but would drive up costs – and might also increase the complexity of getting the new night trains approved to run by safety authorities.
Gauge changing will be retained as an option.
Double decker night trains
A few double decker night train carriages still run on standard gauge tracks in Europe – owned by ÖBB. Double-deck designs are prevalent in the United States, Russia and China as well. The advantage is an increase in capacity, while the disadvantage is a decrease in route availability, and possibly also a more complicated approvals process for the carriages. No manufacturer currently offers a double deck night train carriage in its portfolio. This is a double deck night train carriage, in the old ÖBB colour scheme: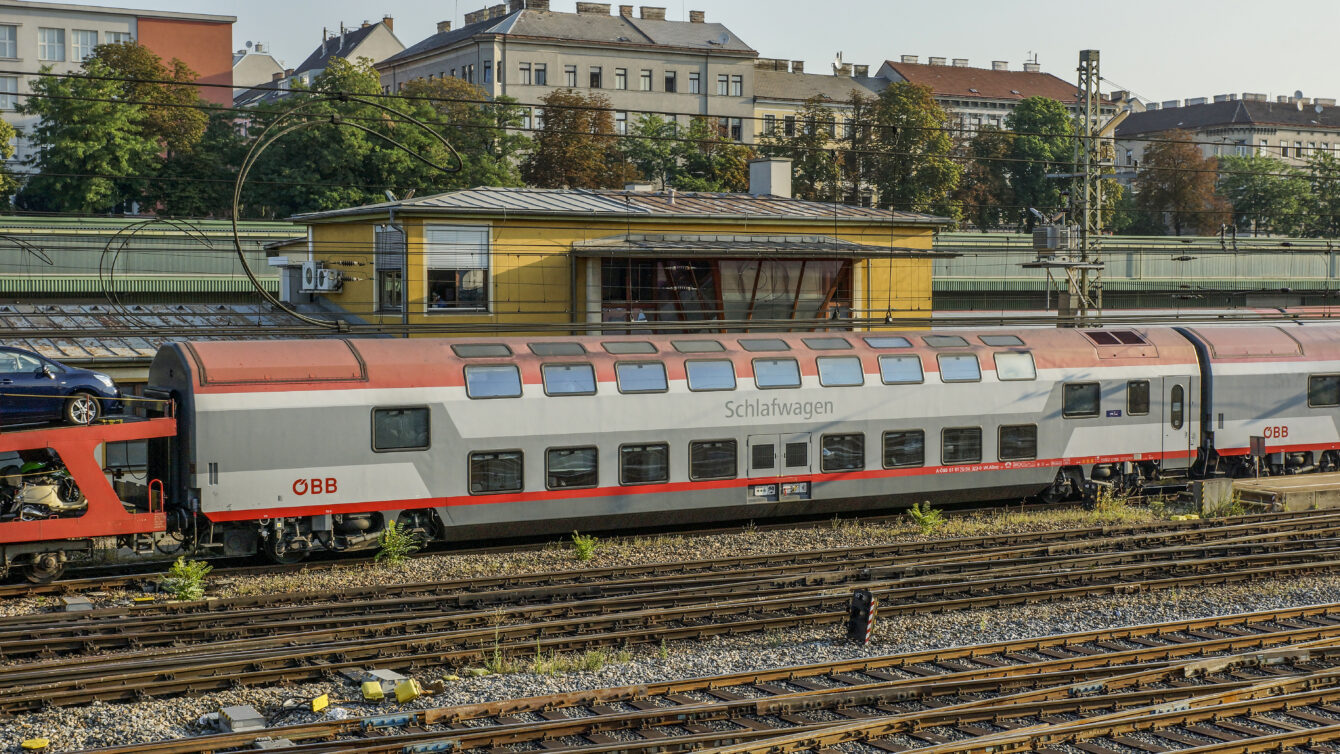 It is a good idea, but the complexity of the technical implementation rules this out at the start.
Reversibility / top-tail
ÖBB's daytime services – Railjet – is a locomotive connected semi-permanently to 7 carriages, with a driving car at the other end. This can be see here, with the driving car leading and the locomotive pushing at the back:

An alternative is for a locomotive to be connected at both the front and the back of the train. The advantage of these solutions is that they permit fast turnarounds in terminus stations (think of Frankfurt (Main) Hbf, Roma Termini, Budapest Keleti) as the train can be driven from both ends.
The problem is that – once more – this adds to the level of technical complexity of the process to approve new trains.
Such driving cars could be added at a later date, but do not need to be included at the start of the project.
Distributed traction
Most modern trains do not have a locomotive at all – all of the motors and other machinery are mounted below the floors, and the powered axles are throughout the train. This is known as an Electrical Multiple Unit (EMU). High speed EMUs are also by now comparatively common – Trenitalia's Frecciarossa 1000 is an example of this: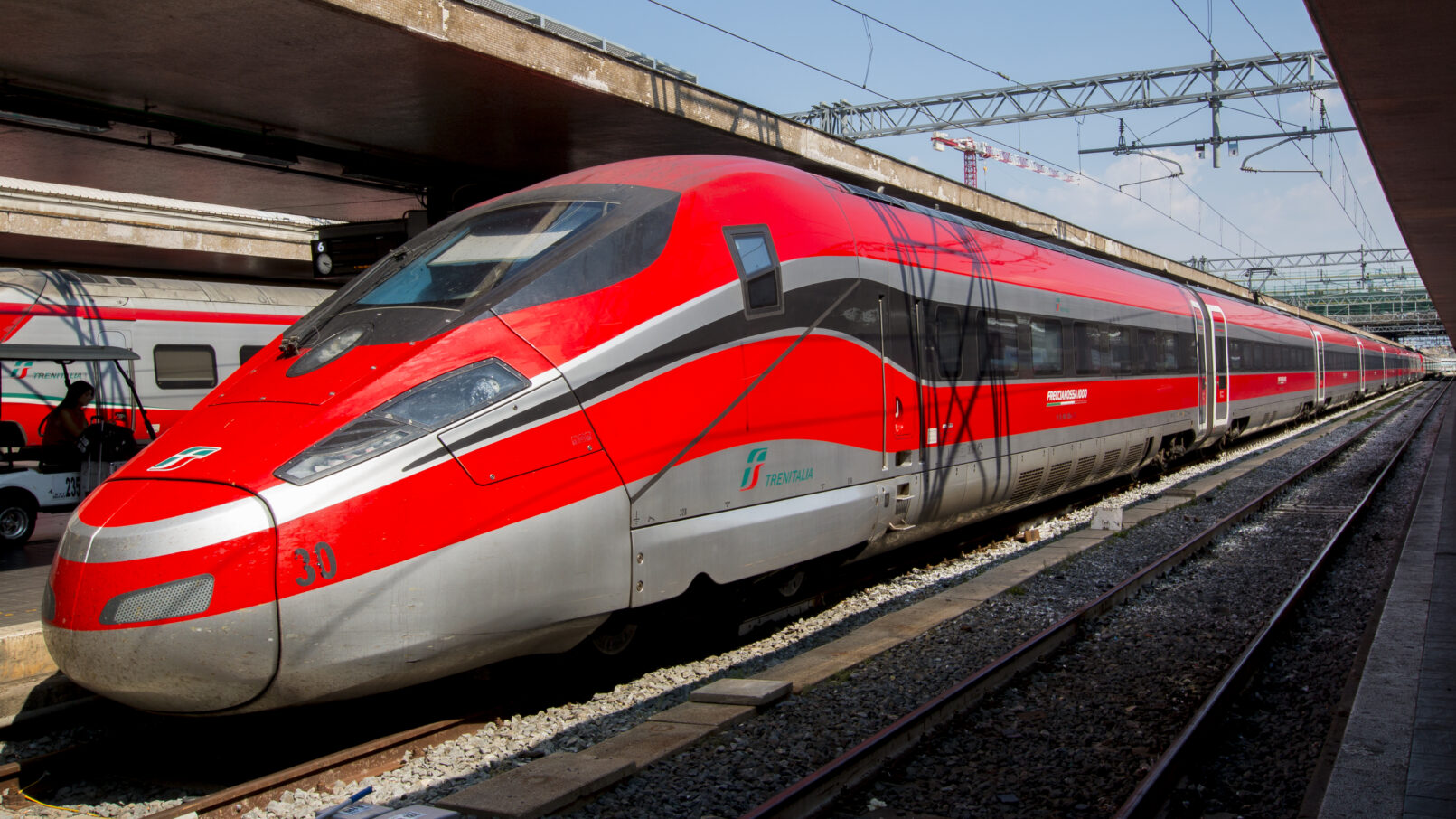 However there are numerous problems with this. No EMUs have the degree of interoperability of locomotive-hauled carriages. And the fixed formation – you cannot add or remove carriages easily – is an operational constraint. Plus high speed EMUs are prohibitively expensive to procure.
In an ideal world we would all like 320km/h, distributed traction night trains that run from Bodø to Istanbul. But for the moment achieving that is sadly out of our reach! So it is not included.
Photos used on this page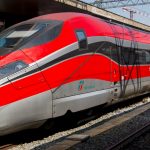 Hans Permana
Frecciarossa
August 5, 2018
License: Attribution-NonCommercial 2.0 Generic (CC BY-NC 2.0)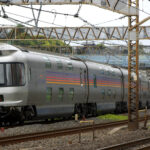 Sui-setz
JR East E26 series passenger cars, Limited express "Cassiopeir"
5 May 2008
License: Work has been released into the public domain by its author, Sui-setz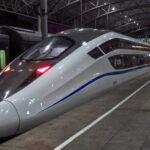 N509FZ
CRH2E-2465@SHA (20170910185510).jpg
10 September 2017
License: Creative Commons Attribution-Share Alike 4.0 International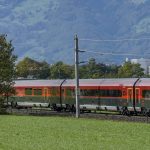 Albert Koch
railjet Liechtenstein
October 14, 2013
License: Attribution-NoDerivs 2.0 Generic (CC BY-ND 2.0)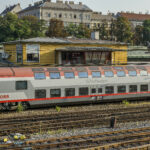 Albert Koch
Ex-CityNightLine sleeper
July 27, 2013
License: Attribution-NoDerivs 2.0 Generic (CC BY-ND 2.0)