The main problem Trains for Europe has identified is the shortage of the trains themselves – the rolling stock. First and foremost that problem has to be solved, and there would be a lead time of a few years before any new trains were ready to run on Europe's tracks.
Ticketing is nevertheless a problem in long distance rail in Europe – daytime or nighttime – right now for services that already exist, and – were the situation to remain unchanged – would still be a problem when the Trains for Europe services would launch.
The problem arises when your journey comprises tickets from multiple operators – think of part of your trip on Thalys and part on Deutsche Bahn, or part on Snälltåget and part on Flixtrain. Even if there is just one payment transaction, you will normally be issued two tickets for connections like this. And if your first train breaks down and so you miss your connection, you can easily get stuck, or have to purchase a new ticket for the second train you take.
The European Union tried to solve the ticketing problem with the Rail Passenger Rights Regulation, but as consumer groups pointed out, the compromise reached was a long way away from meeting passengers' needs. Medium term this issue is going to have to be addressed once more.
In the meantime ticket startups offer partial solutions. Sites such as Omio, NS International, Trainline, All Aboard and RailEurope offer point to point railway booking combining multiple operators, and also in some cases allow you to insure yourself against the costs of delays.
In short: we are aware of the problem, but Trains for Europe cannot solve all of the problems with Europe's railways in one go!
Photos used on this page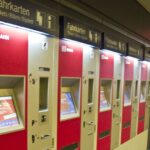 calvinbasti
PICT9663
April 22, 2009
License: Attribution 2.0 Generic (CC BY 2.0)