Europe-wide problems need Europe-wide solutions, and the absence of night trains is clearly and almost by definition a Europe-wide problem. The EU has itself acknowledged that rail needs a boost, nominating 2021 as the European Year of Rail and sees rail as an important part of the whole of Europe's green transition.
There are only a few European countries large enough to have national night trains, and so the vast majority of viable night train routes will cross a border somewhere en route, meaning at least two European countries are involved in its running.
The core problem is that the big rail players in Europe – Deutsche Bahn, SNCF, Renfe, Trenitalia, PKP – that would have the financial clout to procure new night trains themselves have no interest in expanding international overnight services, choosing instead to focus on shorter and faster national daytime routes. Likewise the governments of individual European countries – with the exception of Austria that has been solidly supporting its operator ÖBB's night trains – have shown support for night train routes that start or end in their countries.
The market alone is not solving the rolling stock problem at the moment either. Leasing companies are not taking the risk of buying new night train carriages to lease to operators as they see little interest from the big companies in those services, and do not trust the small firms and startups (companies like European Sleeper, Snälltåget, RegioJet) to be able to run services medium term.
So the European Union has to step in to unlock this problem.
As we explain on the detailed page about operations that does not necessarily mean the EU has to itself step in to purchase the night train carriages for the pool of rolling stock to be created. One option is for the EU (probably through the European Investment Bank) to be able to offer loans at preferential rates in order to solve the issue – and for either leasing companies or the carriage manufacturers themselves to own the stock, and lease it to operators. A further and more radical option would be for the European Union itself to set up a rolling stock leasing pool. Until Phase II of our campaign has concluded, Trains for Europe does not have a fixed position as to which of these options is the best one.
To conclude: the European Union has to solve this problem because no-one else has either the will or the means. But precisely how the European Union should do this will be refined as the Trains for Europe campaign develops.
Photos used on this page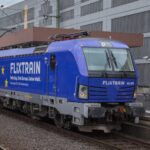 Andre Pronk
Düsseldorf Hbf, 193 826 Siemens Vectron Flixtrain
May 26, 2019
License: Attribution-NonCommercial-ShareAlike 2.0 Generic (CC BY-NC-SA 2.0)