Traditionally night trains in Europe have had three classes of accommodation: seats, couchettes and sleeping cars. We'd add a fourth: mini-compartments.
Seating
What's this like: a daytime train, running at night
The budget option, for the most price conscious travellers. Sitting up all night is not the most comfortable, but a carriage with seats can transport 70-80 passengers. Seats that can recline (similar to those in an aeroplane) improve comfort, while seats arranged in compartments at least allow a quieter ride and help prevent noise from elsewhere in the carriage perturbing all the passengers. Seating cars can also be used for people who only travel part of the trip in the late evening hours, not the whole trip overnight. Luggage is conveyed in overhead racks.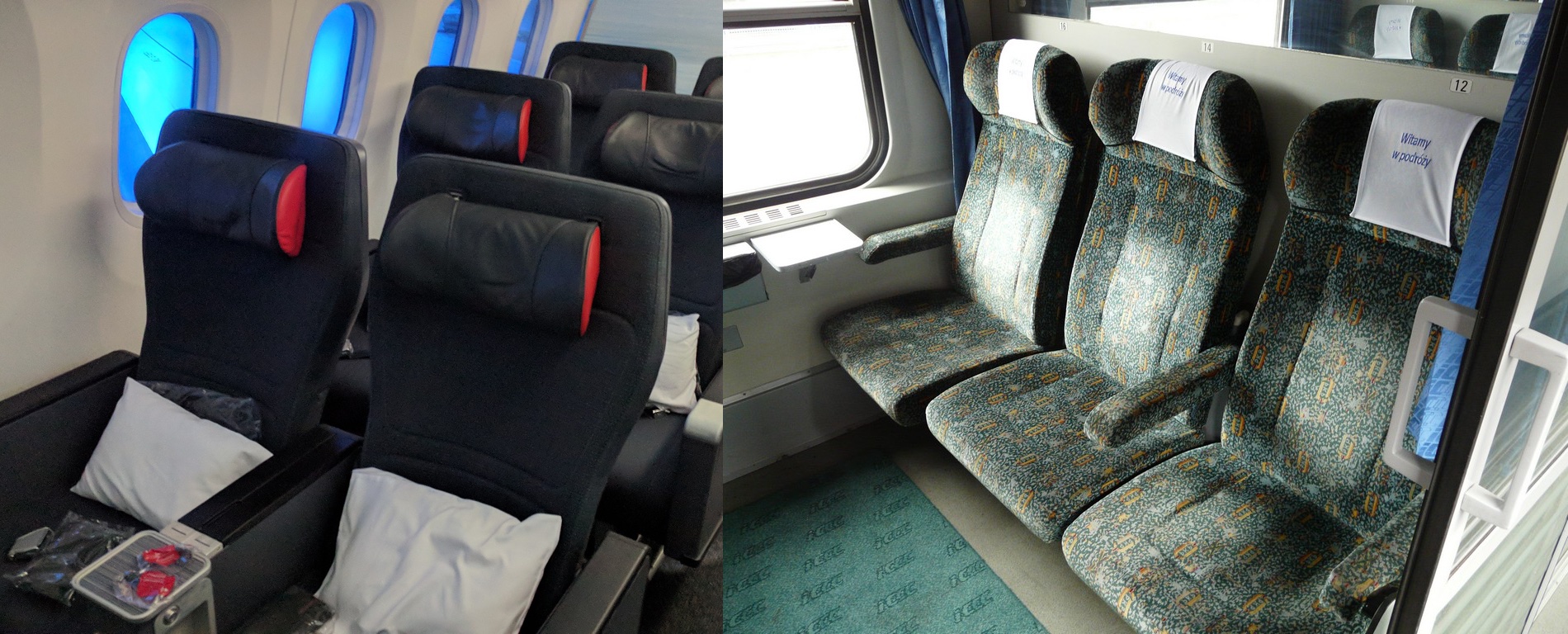 Couchette / Liegewagen / Hard sleeper
What's this like: like a youth hostel on wheels
This is the most basic accommodation where passengers get a full bed. The option for budget travellers and for families. Normally each couchette compartment can accommodate 4 or 6 passengers, and there is no way to separate yourself off from your fellow travellers in the compartment. It's basic, but more comfortable than a seat. Bed linen is provided. Toilets, wash basins and showers are provided at the end of the carriage. Beds fold down to make seats for the daytime portion of a trip. Luggage is conveyed in the compartment, and the door can be locked from the inside when the passengers are asleep.
Wagon-lits / Schlafwagen / Sleeping car
What's this like: a mini hotel room on wheels
The more deluxe option for passengers who can pay more. 1, 2 or 3 people per compartment (with the option to book a compartment just for you), better beds, and with at least a sink (and sometimes even a private toilet and shower as well) – but as these carriages have a lower capacity than seating or couchette cars, booking a ticket in these is more expensive. Beds can be folded down to make seats for when passengers are awake. Luggage is conveyed inside the compartment, and the door to the compartment can be locked from the inside.

Mini-compartments
What's this like: an adaption of Japanese capsule hotels – privacy, but in a small space
One of the most off-putting features of traditional night trains in couchettes (see above) is the need to share a compartment with a complete stranger. Not everyone is happy with that sort of youth-hostel kind of feeling. Austrian Railways ÖBB will introduce so called mini-compartments in its future fleet from 2022, and night trains in Japan have something similar. This is an economy option, but for single travellers, and is similar to capsule hotels in Japan. Each capsule is for one solo traveller, but is self contained – with a bed, small table, and window (with blind). This provides better privacy for solo travellers, but without the extra cost of a whole sleeping car compartment (see above). Luggage is conveyed in a locker outside the compartment, and toilets and showers are at the end of the carriage. Compartments are not large enough to enable a passenger to stand up, and cannot be converted into seats.

Accessibility and bicycles
Every night train needs to have a multi-purpose area – with space for passengers with reduced mobility (and toilets too), and space for transport of bicycles.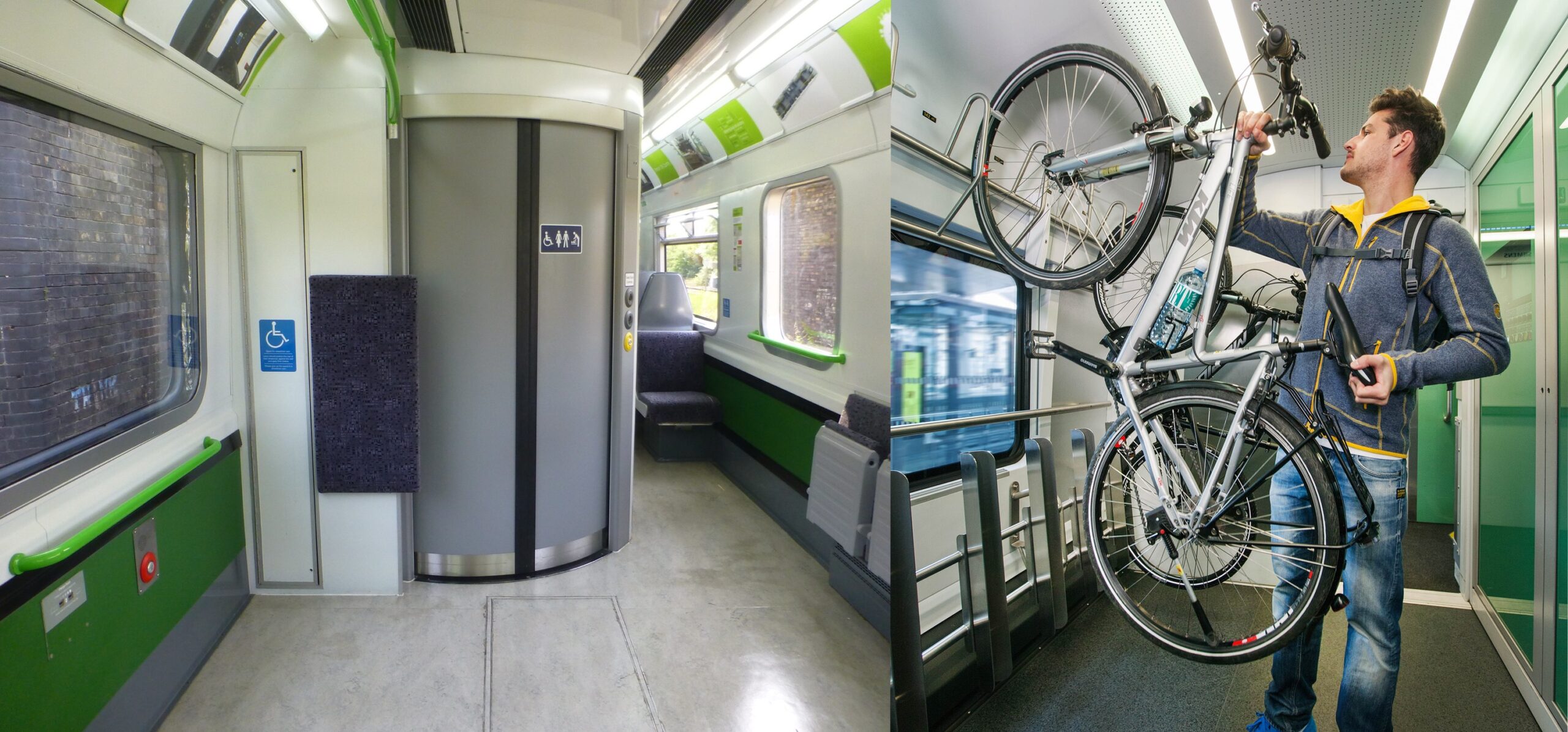 WiFi and electricity
Carriages would be equipped with WiFi and have power sockets at every seat and berth.
Luggage
One of the reasons travelling by train is more appealing than flying is that bulky and fragile luggage can be more easily conveyed, but we are aware that this cannot always easily be stored in the compartments with the people travelling (especially in the case of the Mini Compartments above). As out plans develop in future phases of the campaign we will develop our plans for the safe conveyance of luggage in more detail.
Dining
Food would be served on board at a passenger's seat or compartment – basic evening meals, snacks, drinks and breakfast before arrival.
Very long distance night trains – on the Transsiberian railway for example – have dining cars, as these trains serve routes lasting multiple days and nights. Routes planned as part of Trains for Europe are considerably shorter – lasting an evening, the night, and the early morning. A whole extra carriage for this is not economically viable, so a dedicated dining car is not part of the Trains for Europe plans. Were operators to choose to add a dining car that they already had at their disposal this would be technically possible, but dining cars are not covered directly by this campaign.
Cars / Autorail
Some night trains have car transport wagons attached – to allow passengers to spare themselves long trips on motorways. These services are highly seasonal, and terminals to load cars onto trains are rare in Europe. So there is no plan to convey cars foreseen in Trains for Europe. Car transport has also traditionally limited the speed of a night train to 160km/h, below our other minimum requirements. Were operators to choose to add car transporters that they already had at their disposal this would be technically possible.
Photos used on this page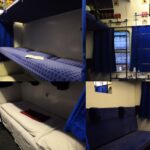 Torsten Maue
Liegewagen – Pic 1, Pic 2, Pic 3, Pic 4
March 28, 2019
License: Attribution-ShareAlike 2.0 Generic (CC BY-SA 2.0)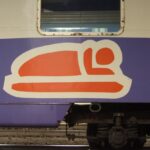 CasteFoto
EuroNight for Paris
January 8, 2008
License: Attribution-NonCommercial 2.0 Generic (CC BY-NC 2.0)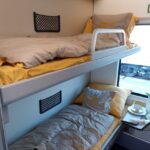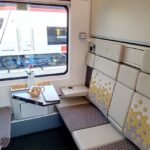 ADY Stadler night train by Nicholas Brooke (2 pics)
@NicholasNCE on Twitter
Used with permission – See original pictures on Onedrive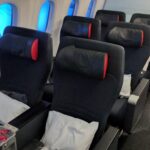 Alex S.H. Lin from Taipei, Taiwan
Air Canada 787-9 Premium Economy Class from C-FRSR AC12 TPE-YVR
5 August 2017
License: Creative Commons Attribution-Share Alike 2.0 Generic license
Dariusz Sieczkowski
Polish fast train – interior
July 14, 2012
License: Attribution-NoDerivs 2.0 Generic (CC BY-ND 2.0)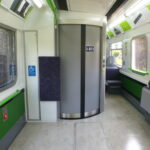 citytransportinfo
D-Train-230001-Inside-Trailer-P1400999
June 21, 2017
License: CC0 1.0 Universal (CC0 1.0) Public Domain Dedication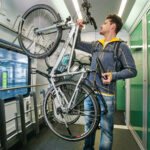 European Cyclists' Federation
ÖBB Railjet
March 2, 2015
License: Attribution 2.0 Generic (CC BY 2.0)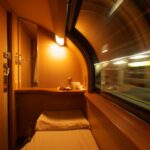 elminium
Sleeping Car
December 17, 2011
License: Attribution 2.0 Generic (CC BY 2.0)