Understanding how railways in Europe work is not simple, and hence explaining how a pool of rolling stock for night trains in Europe would work is no simple task! So we have developed a detailed series of detailed articles to help explain our proposals!
— What are the minimum requirements for a modern night train?
— What classes of accommodation would a night train have?
— How would the ownership, leasing and operation of the night trains work?
— What additional features could be added above the basic design?
— What locomotives are needed to haul night trains?
— Who could manufacture the night train carriages needed?
— Is there anything else that could be done other than procuring new trains?
— On what tracks do you want night trains to run?
Photos used on this page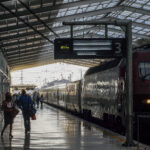 Albert Koch
Night train to Lisbon
September 17, 2013
License: Attribution-NoDerivs 2.0 Generic (CC BY-ND 2.0)