2021 is the EU Year of Rail, and so the European Commission DG MOVE and Community of European Railways are running the "Connecting Europe Express" in September and October to try to show what rail can do for Europe and for the green transition. The train departed from Lisbon on Thursday 2nd September and will cross pretty much all European countries that have railways until it ends in Paris 7th October – the full route is here.
Despite the slogan and much of the social media activity around the Express being "Hop On", it's actually far from simple to do that – going on board the express for any of its route required a complex application procedure and even the link to apply was leaked to us by a contact. This is not open and transparent public outreach!
Given the focus of Trains for Europe is night train rolling stock, we aimed to go on board a leg where overnight accommodation was promised, namely Kraków Glowny (D: 23 September 2021, 12:19) to Ljubljana (A: 24 September 2021, 08:46), with a event stop in Ostrava (23 September 2021 – A: 16.05, D: 22:00) – we applied and were accepted… only to then be told there were only seats available for the night time part of the trip! So with the danger that we're not going to get any sleep we're nevertheless going along, to see what we can learn, and to make the case to EU officials and railway executives alike about our plans for a rolling stock pool of night train carriages.
Also – because we practice what we preach – we are taking the train to and from the Connecting Europe Express as well, and this was a headache in itself! The ticket for the Berlin – Poznan – Kraków part of the trip… had to be sent by post (no eTickets available!) and the short cross border leg Ljubljana – Villach cannot be booked online at all, and has to be purchased on the spot at the station in Slovenia. Digitisation of ticketing could be one of the issues the express could seek to improve!
Anyway in the end this is the complete schedule for the trip – if you're reading this and live in any of the places along the way then do say hello!
TO the Express – Wednesday 22 September
Berlin Ostbahnhof D: 13:53
EuroCity EC 49, DB Fernverkehr AG / PKP Intercity
Poznan Gl. A: 16:27
Poznan Gl. D: 16:32
IC 8306, PKP Intercity
Krakow Gl. A: 22:13
Ticket Price: €44,85 First Class with BahnCard 25, Deutsche Bahn Europa Spezial, plus €5,90 to send the ticket by post – total €50,75
Connecting Europe Express – Thursday 23 September and Friday 24 September
Krakow Gl. D: 12:19
Zebrzydowice A: 14:47, D: 15:17
Petrovice A: 15:23, D: 15:43
Ostrava A: 16:05, D: 22:00
(runs overnight via Breclav, Leibnitz, Spielfeld-Strass, Maribor)
Celje A: 06:55, D: 07:30
Ljubljana A: 08:46
FROM the Express – Friday 24 September and Saturday 25 September
Ljubljana D: 21:10
D 414, ÖBB / HZPP
Villach Hbf A: 22:49
Ticket Price: around €8, but has to be booked on the spot
Villach Hbf D: 07:16
RailJet RJ 691, ÖBB
Linz Hbf A: 11:28
Linz Hbf D: 11:54
EuroCity EC 332 EX 332, ÖBB / Ceske Drahy
Praha hl.n. A: 16:02
Praha hl.n. D: 16:26
EuroCity EC 170, Ceske Drahy / DB Fernverkehr AG
Berlin Südkreuz A: 20:35
Ticket Price: €53,05 First Class with BahnCard 25, Deutsche Bahn Europa Spezial, eTicket
Photos used in this post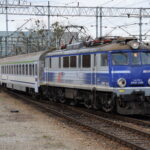 Hugh Llewelyn
EP07-1059
November 24, 2017
License: Attribution-ShareAlike 2.0 Generic (CC BY-SA 2.0)