Trains for Europe has been running in public for a couple of months now, and wow, what progress we have managed to make already!
Above all we have been speaking to all sorts of people about our plans – people in EU institutions and agencies, in national administrations, in leasing companies, in associations. We've chatted with researchers, with fellow campaigners. and with plenty of transport nerds as well. Pretty much universally the reaction has been positive – the time is right to scale up night trains, and some kind of EU-organised pool of carriages would seem to be the way. The devil of course is going to be in the detail – how to organise it, and to finance it. But we're steadily gathering answers to our many questions.
We're very happy to have 4 MEPs on board backing the campaign – Katalin Cseh (Renew Europe, Hungary), Jakop Dalunde (Greens-EFA / Sweden), Anna Deparnay-Grunenberg (Greens-EFA, Germany) and Karen Melchior (Renew Europe, Denmark). We are also very happy to have the support of PRO BAHN, the German passenger federation. Whoever you are – be it a politician, an organisation, a company or a concerned citizen – we would welcome your support!
Behind the scenes we have also been working on the organisational structure for Trains for Europe – it's going to take a little longer to finalise, but all being well in early September we will have a legal and financial structure that will also allow us to do some fundraising. We've also received some pro bono assistance to help us with one of the big questions we have – what night train routes are viable? – and we will be publishing the first conclusions of that work in the autumn.
We've also started to gain some attention in the media – in the Swiss digital magazine Rideable, from Smarter Communities, and in n-ost's weekly newsletter. Meanwhile our social media outreach – especially on Twitter – has been growing steadily – 1900 people are following us there at the time of writing.
For the rest of August we're going to be taking a break (campaign founder Jon Worth needs a break) but we'll be back with a lot more campaigning activity in September!
Photos used in this post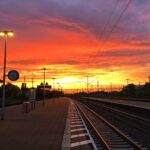 Uwe
Sunrise
August 22, 2016
License: Attribution-NonCommercial-NoDerivs 2.0 Generic (CC BY-NC-ND 2.0)