Without the central procurement of night trains, the desired goals of the EU commission are not attainable. This centralized procurement enables old players and new entrants to quickly acquire new night train units to match the growing demand.
At the end of June 2021, Snälltåget launched its new night train service from Stockholm to Berlin. Together with many other NGOs, we cheered the arrival of the first train in Berlin. But let's take a step back to look at what actually happened and how we would have perceived these events if the operator were Deutsche Bahn back when it operated night trains instead of Snälltåget.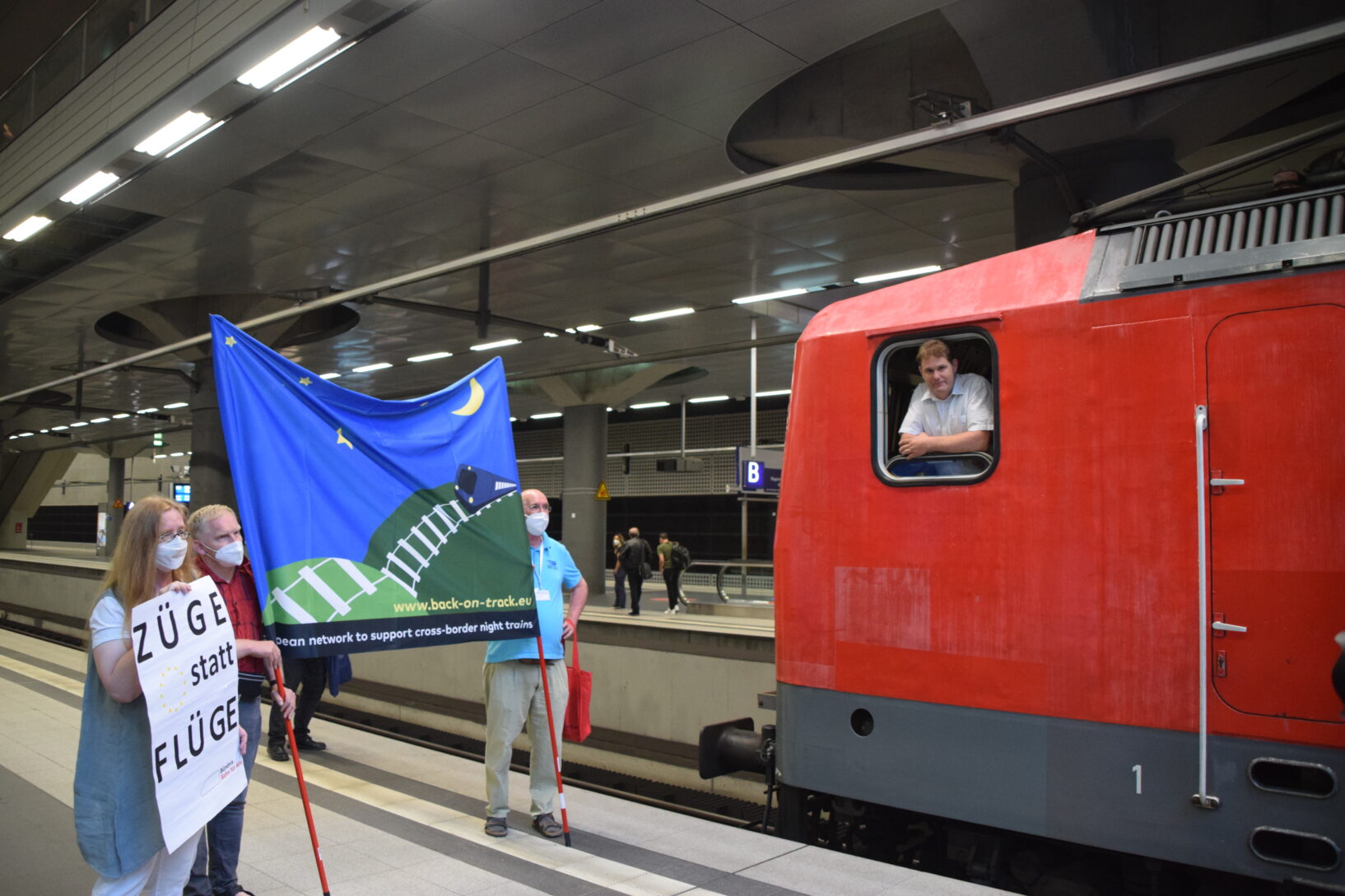 Snälltåget brought back an extension of the Berlin – Malmö service that already existed before covid and could not continue on its previous path via the ferry between Germany and Sweden due to new safety regulations. So, the train is not entirely new. Also, the train arrived with merely four couchettes and a single seating car without any sleeping car and offering no accessibility. If it were Deutsche Bahn five years before, we would have ridiculed them, but now, we are just happy to get any night train.
Why is this? There are virtually no carriages available, especially full-blown sleeping cars. Most existing carriages are already in service for state-owned or private operators. Others have been standing around in yards for so long that they are hardly salvageable. In short, there are no second-hand carriages available. 
New carriages take a long time to acquire. E.g., ÖBB showed the design for its new NightJet units in 2016, production started in 2019, and the trains will enter service in 2023. So, from idea to realization, it took seven years. Furthermore, ÖBB's order fills Siemens' production line well into the late 2020s. This long time span is also an issue from an economic view. A new entrant would have to finance his new units for up to seven years before receiving the first round of income. Funding such an enterprise is a significant challenge. 
There is also the issue of the business case adding to the long ramp-up-time. A new entrant would have to convince a bank or investor that his enterprise would profit after the waiting period. However, this is in no way guaranteed, and little market data exists. The last existing orientation points are often from the 1990s and early 2000s, before the operators canceled the lines. These facts hardly encourage investors to make a long-term commitment to a night train project.
The central procurement and provision of night train material – especially carriages – would alleviate all of the mentioned issues. By procuring many trains, the manufacturers have an incentive to ramp up production capacities. Also, when the European Union orders the trains in advance and makes them available, new entrants would not have to fight for capital for a multi-year production phase before opening their services. Furthermore, using the models proposed by Trains for Europe, the long-term risk decreases. E.g., either revenue is (partly) guaranteed by public service obligations (PSOs), or operators can return the carriages to the leasing company if the route turns out not to be profitable.
In summary, the approach from Trains for Europe offers the possibility to introduce new night trains at a faster speed and increase the quality of existing lines with more modern or extra carriages. This development would directly improve the service quantity and quality for the passenger. Therefore, we, the passenger federation Fahrgastverband PRO BAHN support the idea of Trains for Europe.