A new night train company has launched today. Paris-based Midnight Trains has launched with a very slick website, and promises a deluxe night train experience – private compartments with showers. The renderings are all soft furnishings and are akin to a smart hotel. RTL news has a report about the launch of the company. So far, so good.
But where is Midnight Trains going to get trains from for their services, that they aim to start in 2024 – 3 years from now? Mark Smith reckons they will renovate second hand stock (although as we argue there is not much of that available) but let's instead start with the routes that Midnight Trains proposes to run, and examine what trains would be needed to run it.
This is the map of routes on their website: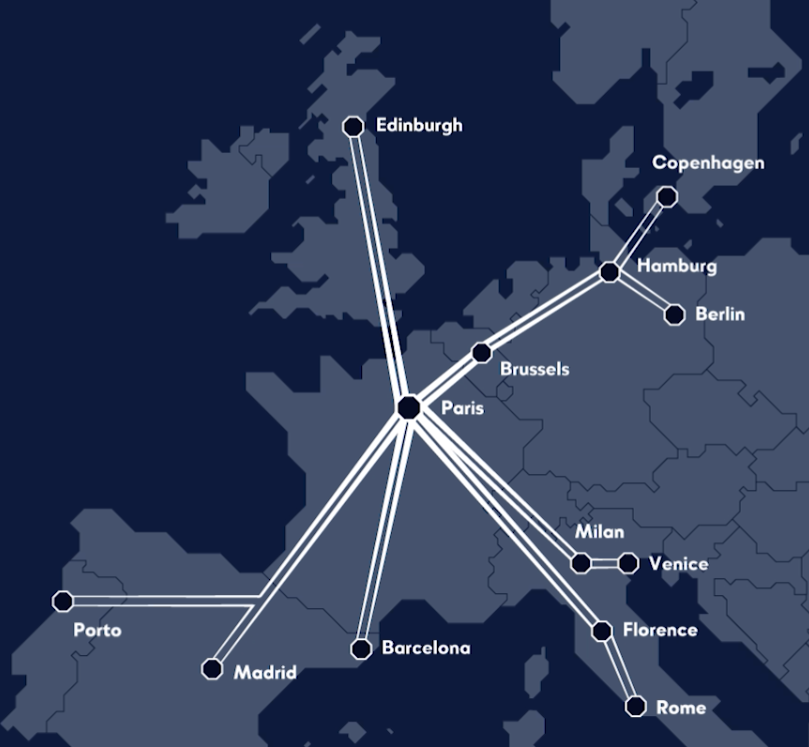 Paris – Madrid/Porto
Route difficulty: hard 🔴
Stock required: gauge changing stock (standard and Iberian gauge), standard gauge high speed stock for Madrid leg from 2024 possible
Trip time: 14 hours Paris-Madrid, 17 hours Paris-Porto
The only realistic way to do these routes is with gauge changing Talgo stock, some of which might be available second hand for renovation if CP/Renfe do not reintroduce Lisboa-Hendaye and Lisboa-Madrid night trains (background here). Trip time from Paris is long. 2 locomotives needed for the Madrid leg, 3 for the Porto leg, and suitable locomotives for the Spanish part of the trip not available on the leasing market. Medium term Paris-Madrid could be done with a 300km/h high speed train, but none are available second hand currently. So sorry Midnight Trains, this one looks a long shot!
Paris – Barcelona
Route difficulty: medium 🟠
Stock required: standard gauge stock, if it can be cleared for the Perpignan-Barcelona High Speed Line
Trip time: 10 hours
The route Paris Austerlitz – Orleans – Limoges – Toulouse – Perpignan – Barcelona, with all except the Perpignan – Barcelona section on old lines, could work. 200km/h night train carriages would be required, and converting daytime EuroCity cars for overnight operation could be possible. Or the new stock Trains for Europe proposes would work on this route. Locomotives for the French part of the route could be provided by SNCF or a leasing company, but the Spanish part would require locomotives from Renfe. Getting paths on the high speed line to Barcelona could be complicated. With work this might just about be doable!
Paris – Florence – Rome
Route difficulty: medium 🟠
Stock required: standard gauge stock, but speed and time are problem
Trip time: 15 hours Paris-Rome, 12 hours Paris-Firenze
Running this route using 200km/h locomotive hauled stock is possible, and that stock is the easiest to procure and approve – that's why it's the basis of the Trains for Europe project. But running at that speed for a trip of this distance (assuming Paris – Dijon – Bourg-en-Bresse – Chambery – Modane – Torino – Bologna – Firenze – Roma) results in a very long journey time. But running this train on the high speed lines Paris-Lyon, and Torino-Firenze poses technical difficulties that are very hard to overcome – there are no second hand trains available for that. There is also the headache of new fire regulations for trains in Italy due to be introduced soon, which make it very hard to use renovated old stock for these services. This one is technically possible, but in business terms is probably a hard one due to the travel time.
Paris – Milan – Venice
Route difficulty: possible 🟢
Stock required: standard gauge stock
Trip time: 10 hours Paris-Milan, 13 hours Paris-Venice
The shorter distances make this one easier than Paris-Rome, but technically the route is similar. Running the service via Milano Porta Garibaldi (rather than Milano Centrale) would also prevent complicated reversing manoeuvres being required there. Fire regulations might prevent renovated old stock being used, but using 200km/h new stock on this route would be possible. Midnight Trains ought to probably start with this.
Paris – Brussels – Hamburg – Copenhagen/Berlin
Route difficulty: possible 🟢
Stock required: standard gauge stock
Trip time: 10 hours Paris-Hamburg, 13 hours Paris-Berlin, 15 hours Paris-Copenhagen
This one would start in the most congested Paris station, Gare du Nord. Presuming that problem could be overcome, and the train took the old line to Brussels, regular 200km/h rolling stock would work for this connection. Running through Belgium (rather than via Saarbrücken) makes business sense, but increases the number of locomotive changes required. Trip time to Copenhagen is very long. But Paris-Brussels-Hamburg-Berlin would likely also be a decent starting route for Midnight Trains.
Paris – Edinburgh
Route difficulty: impossible ⚫️
Stock required: nothing currently exists!
Trip time: ?
Bespoke rolling stock that fits the smaller UK loading gauge would be required for this one, or possibly the purchase of second hand old Eurostars and conversion of these to night trains? But even then there are still passport and customs controls, and security checks, and paths around London to come to terms with. This one is so operationally difficult it is mind blowing. That this one is even included makes no sense, and even leads me to wonder how much analysis Midnight Trains has done about the other routes they propose!
So were we in the shoes of Midnight Trains we would start with Paris-Venice and Paris-Berlin, and even with those there are quite some hurdles to overcome before trains could run. And an absence of suitable rolling stock is prime among those issues. Midnight Trains, just like any other operator of night trains, would benefit from the European Union making a pool of rolling stock for lease available to operators.
Photos in this post
Screenshots from the Midnight Trains website.
Corrections
An earlier version of this article had estimated the Rome/Florence times as 17 and 14 hours. It has been corrected to 15 and 12 hours.