Speaking in the European Parliament earlier this week, President of the European Commission Ursula von der Leyen set out some details of European Union Member States' post-COVID national recovery and resilience plans, and gave some details of the scale of the budget for transport:
Let me give you some figures. […] And at least EUR 85 billion will be used to boost sustainable transport – digital railway infrastructure, charging stations for electric cars, or seamless urban mobility.
Digitisation is not a core part of our plans at Trains for Europe, because our focus is new trains, but we can think of no better way to make long distance travel in Europe more sustainable than supporting long distance rail travel, especially cross border. We have details how to do it, European manufacturers who could build the carriages, and night trains run on tracks that already exist. It'd be a win all round.
Photos used in this post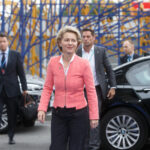 EU2017EE Estonian Presidency
Ursula von der Leyen
September 7, 2017
License: Attribution 2.0 Generic (CC BY 2.0)