Back in September 2020, Swedish transport authority Trafikverket sought to award contracts to run two international night trains from summer 2022 – Stockholm-Hamburg and Malmö-Bruxelles. Sweden's state owned railway firm SJ won the contract to run Stockholm-Hamburg (with rolling stock provided by RDC), but no bids were received for Malmö-Bruxelles, so that route will not operate (or at least not in 2022).
Denmark's transport minister Benny Engelbrecht was quick to point the finger as to the cause of the problem – that public subsidies for operation of long distance passenger services in Germany are impossible. You can read more of Engelbrecht's words in Lok Report here. The gist of the argument is that as too much of the Malmö-Bruxelles route was in Germany, and could not be directly subsidised, so no provider for the service could be found. Belgium's Minister for Transport, Georges Gilkinet, also seems to be a fan of these sorts of solutions – he is calling for an easing of EU rule on State Aid for subsidy of railways.
Before we even get to the issue of subsidies of individual night train routes, here at Trains for Europe we see the first problem to be solved as being another one – anyone wanting to run night trains in Europe faces the same problem, namely the absence of rolling stock. Until a pool of rolling stock is available, any efforts like Trafikverket's can be at most a limited success, not least because the only company investing in new night trains – ÖBB – seems to have no intention of running a route so far from its home territory. Just look at the headaches cobbling together some stock for the Zürich-Amsterdam service if you doubt that this is a problem!
But whether we like it or not, how to solve this financial support for night trains question is not going to go away. Is it the role of one or more states to say "those are the routes we want, and we will subsidise the operation of those routes", or better create the conditions to allow night train operators – be they state owned or private firms – to operate the routes they see fit? That would mean setting track access and station access charges set at a level appropriate to allow night trains to not run at a loss.
Malmö to Bruxelles also seemed to me to be an odd choice for Trafikverket – as adding Belgium to the route results in considerably greater operational complexity than simply running into Germany (it needs a further locomotive change in Aachen, and almost certainly cooperation with SNCB rather than open access). Yes, Trafikverket's plan said that running only to Köln would have been enough, but we are pretty sure that Malmö-Köln-Frankfurt or even running as far as Basel would have, economically, been a better bet than running to Brussels. Surely that the EU institutions are in Brussels cannot have had anything to do with the decision. The heart of the issue is this: is a contract award like the way Trafikverket wanted to do it the best way to solve the problem of the absence of night trains?
The Trafikverket proposal did not only concern financial support, but also the allocation of paths (that would have been guaranteed for 4 years). Path allocation is something that has drawn press attention nationally in Germany in the past few days. For night trains it is not only the issue of the cost of paths, but also the predictability of the their allocation. Directive 2012/34/EU (Articles 40-49) covers how this process is to be conducted for international railway operation, but open access paths are allocated only on an annual basis (for each annual timetable period) – and this might not be adequately reassuring for a new night train operator that might need 3-5 years of operational certainty.
So is there perhaps some middle ground to be found here? A system to give night train operators longer term stability – with paths guaranteed for a longer period, but with track access and station access charges set at a level that means that operators themselves can determine what routes are economic to run? And all facilitated by a pool of night train rolling stock that operators – whoever they are – can draw from?
Photos used in this post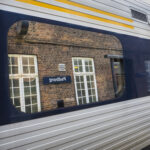 News Oresund
Padborg banegard_20160712_0024
Taken on July 12, 2016
License: Attribution 2.0 Generic (CC BY 2.0)