Milan Marcus spent the summer doing some research for Trains for Europe on the market potential of possible night train routes. He also travelled by rail for two weeks from Germany to Portugal and back on an interrail pass. This trip highlighted the need for better (international) connections throughout Europe – by day and by night!

For two weeks in August, I finally fulfilled a dream I've had since turning 18: travel through Europe on an interrail pass. In fact, it wasn't even by design. My best friend and I decided we wanted to travel from Germany to Portugal by train this summer, but initially I checked regular ticket prices for each leg. It didn't take long to realise that for this trip, covering thousands of kilometres of rail track in five countries, an interrail pass was ideal. The interrail pass saved us money, as an international rail trip like this one would have involved buying separate (sometimes more than one) tickets for each leg. Crucially, it also provided us with flexibility that individual tickets would not have, something which we would learn to appreciate immensely during our trip.
Getting to Portugal by train proved to be an adventure, not least because Portugal is almost isolated from the rest of Europe in terms of international rail connections (more on that later). It was definitely exciting for us, two mid-20-year-olds on holiday with a relatively flexible schedule and enthusiasm for rail travel. However, planning the trip beforehand, as well as readjusting while en route, highlighted the shortcomings of European cross-border rail travel – especially for people with less flexibility. More often than not, I thought to myself how much easier and more convenient individual legs of our trip would have been, if only there existed a night train connection. In this post, I outline our trip and highlight where specifically a night train connection could be a game changer for rail travel.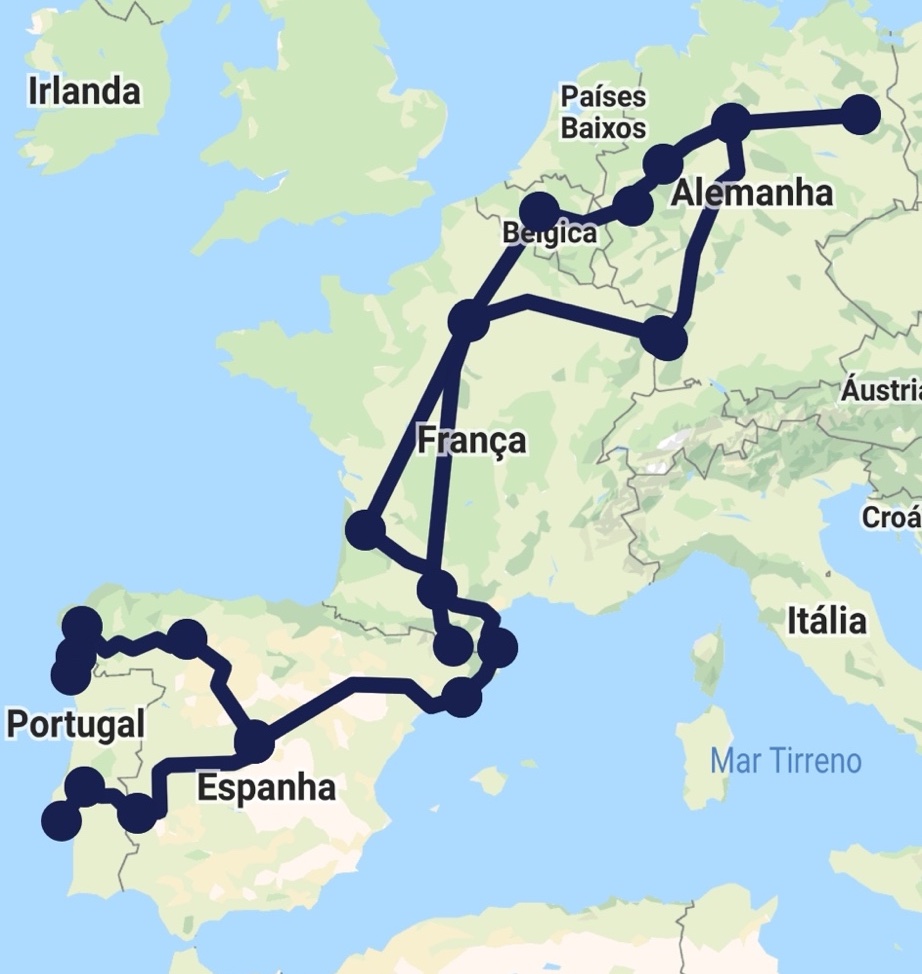 (Most of) our route: over 6.500km of rail travel
Travel Day 1: Berlin – Paris
Due to a train drivers' strike in Germany on the day of our departure, we were very limited in our options to leave the country. Usually, the quickest rail connection between Berlin and Paris involves a single change in Cologne or Mannheim, taking approximately 8:20 hours. This option wasn't available to us due to the limited timetable during the strike. Instead, we made a total of three changes: in Hannover, Offenburg, and Strasbourg. Our journey time was therefore just under 11 hours.
Night train potential: Berlin and Paris were linked by daily night trains until 2014, when Deutsche Bahn (DB) reduced (and soon after completely terminated) its night train routes. Since then, there has been no direct rail connection between the two capitals, beyond the twice-weekly 'Moscow Express' from Paris to Moscow via Berlin and Warsaw. In December 2020, DB, France's SNCF, Austria's ÖBB, and Switzerland's SBB announced that night trains would run again between Berlin and Paris by 2023. In 2019, there were 1.25 million air passengers each way between Berlin and Paris – a large potential passenger market for a night train connection.
Travel Day 1/2: Paris – Portbou – Barcelona – Madrid
The benefit of travelling from Berlin to Paris during the day was that we had time for dinner in Paris before taking the night train onwards to Spain. The intercité de nuit leaves Paris Austerlitz at 22:22 each night during the summer for the Spanish border town of Portbou. Taking the night train was lovely – something about travelling in a 40-year-old waggon is simply charming, the friendly conductor opened an unoccupied compartment for us when there was an issue with our original compartment, and the berths were comfortable enough for a solid 8 hours of sleep before waking up with splendid views of the Mediterranean coast. We arrived in Portbou at 10, with enough time to take a quick dip in the sea and have breakfast before our next train to Barcelona, arriving there at 13:40. This is by no means the fastest way to travel by train from Paris to Barcelona. A TGV high-speed train links the two cities in 6:40 hours.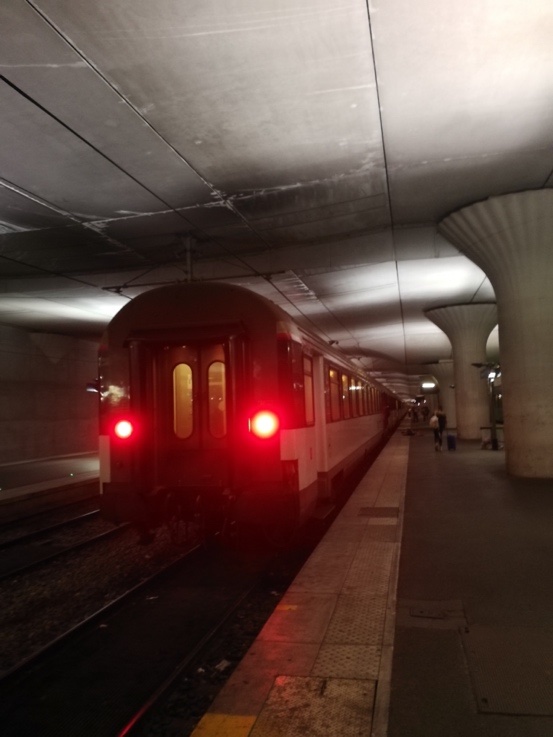 The night train to Portbou ready for departure in Paris Austerlitz
Night train potential: SNCF and Spain's RENFE ran a night train between the two cities until 2013, when high-speed trains were introduced. However, with a travel time above six-and-a-half hours, these daytime trains are simply not attractive for time-conscious travellers. In fact, the service has been reduced to only one daily train since 30 August, allegedly because of low demand. With 2.7 million air passengers each way between Paris and Barcelona in 2019, travel demand for this route is massive, so surely a night train with attractive timings would be viable. So why isn't there one running already? First, it isn't as straightforward as simply extending the existing intercité de nuit that already runs to Portbou, because running on the conventional line from Portbou to Barcelona would require rolling stock compatible with both standard and Iberian track gauge. Alternatively, one could let the night train run on the standard-gauge high-speed line between Perpignan and Barcelona. Few trains run on this line each day, so fitting a slower locomotive-hauled night train into the timetable should be possible. However, due to a general lack of night train rolling stock, the only company which could plausibly run such a train at the moment is SNCF. Yet, as outlined in this post, SNCF wouldn't want to introduce a Paris – Barcelona night train service, even if profitable, because it would compete with its current high-speed trains on the route. To enable other operators to run this service, the shortage of rolling stock needs to be addressed, which is exactly what the Trains for Europe campaign is about!
A Paris – Barcelona night train would not only make train travel between these two cities much more convenient. It would also provide a better link between the French and Spanish capitals. Taking the night train to Portbou, then a train to Barcelona, and then a high-speed train to Madrid means arriving in Madrid only in the afternoon – despite the time-saving benefits of taking the train while sleeping, one still spends most of the next day travelling. With a night train arriving in Barcelona at 8:00 in the morning, one could hop on the next high-speed train to Madrid and arrive before noon!
Travel day 3: Madrid – Lisbon
Madrid to Lisbon is notorious for having among the worst rail connections between two adjacent EU capitals. We left Madrid at 8:00 in the morning, arriving in the border town of Badajoz 5 hours later. It's a scenic ride through the western Spanish countryside, with a first-century Roman aqueduct in Mérida particular highlight. In Badajoz we had a three-hour stopover before we took the once-daily train crossing the border. It's an interesting place for a stopover, with a 12th century citadel standing out as an impressive sight.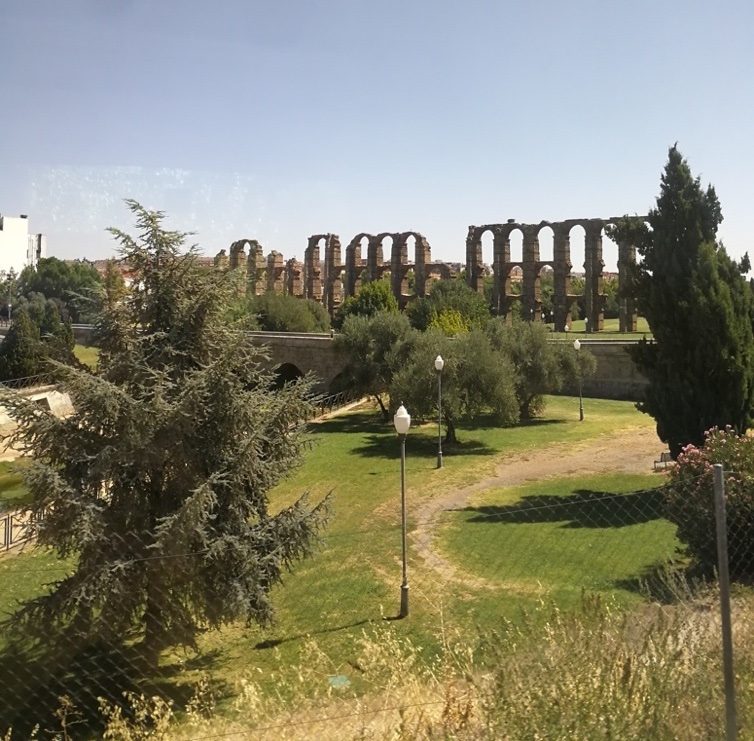 Roman aqueduct in Mérida seen from the train
We could've taken a later train, and, after an additional change in Mérida, arrived in Badajoz 20 minutes before the departure of the train crossing the border. We deemed the connection too risky, although it did appear that the cross-border train waited a few minutes for the delayed train to arrive. The small diesel-powered railcar taking us from Spain to Portugal is symbolic of the dire state of the Madrid to Lisbon rail connection. The single-coach railcar from the 1950s would appear more adequate on a suburban line late at night rather than a three-hour cross-border trip. The train was slow, passing many small stations in Portugal with traditional 'azulejos' tiling. We arrived in Entroncamento, from where we took a Portuguese regional train, finally arriving in Lisbon at 20:15 – 13 hours after leaving Madrid.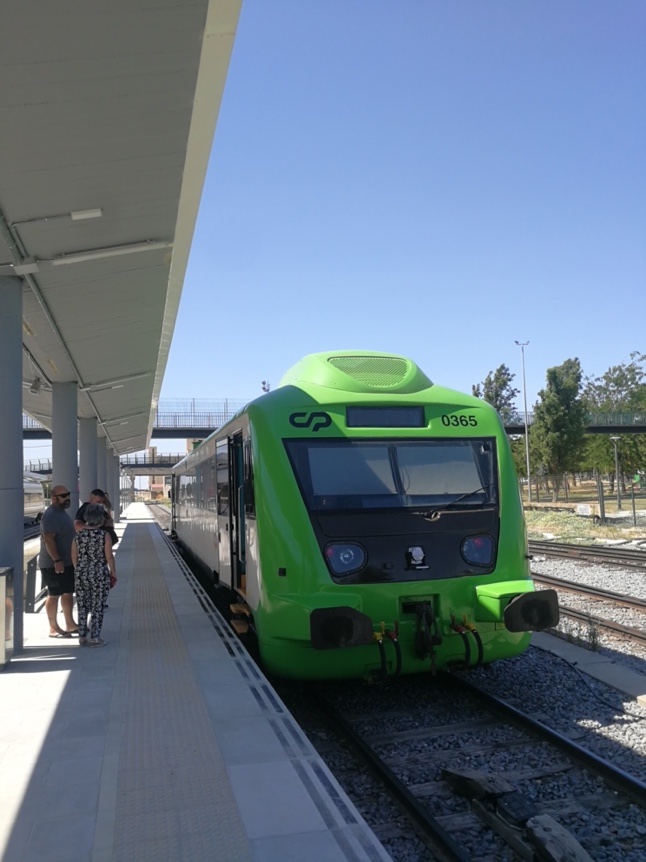 3 hours in this small diesel train is part of the 13-hour Madrid – Lisbon connection
Night train potential: Renfe used to run the 'Trenhotel Lusitiana' every night between Madrid and Lisbon. This has been suspended since March 2020, and is unlikely to resume, with many carriages either having been converted for daytime-only use, or sold to India. Madrid to Lisbon remains a popular travel route, with 1.5 million air passengers each way in 2019 (when the night train was running). The Trenhotel Lusitiana also allowed for convenient connections to and from Porto, with a change in Coimbra or Entroncamento.
In absence of the night train, there have been rumours that Renfe is planning to launch a daytime train between Madrid and Lisbon, although even without changes the long travel time of over 7 hours makes this a far less attractive option than a night train. A high-speed line is currently being built between Madrid and Badajoz, which would cut in half the current 5-hour journey. From what we could see, the construction of the new line is quite advanced, but it won't be completed in its entirety until 2030. Some time savings should be achieved over the coming years when segments of the new line are completed, but even a 5–6-hour travel time during the day won't be enough for large-scale modal shift. Hence, reintroducing a night train on this route seems the best option to make rail travel between the Spanish and Portuguese capitals attractive in the foreseeable future.
Travel day 4/5: Moledo – Vigo – Santiago de Compostela – Madrid
We didn't use our interrail passes to travel from Lisbon to Porto, and then from Porto to a small beach town called Moledo, close to the Spanish border. We figured it's cheaper to buy regular tickets for these routes within Portugal than buying an interrail pass with additional days. For our return journey, we took the only other passenger train currently operating between Portugal and Spain. First, we took a short hop on the regional train from Moledo to Valença, where we changed to the once-daily Intercity train running from Porto to the northern Spanish city of Vigo. Our plan was to take an onward train to Madrid, of which there are a few each day. However, late August is the end of the peak holiday season in Spain, and so all trains were booked out – apparently even for the next day! We spent two hours at the train station looking at different options until we found one: get from Vigo to Santiago de Compostela, from where we could take a train the next day to León, spend a few hours there for lunch and a walk through the city centre with an impressive cathedral and a Gaudi building, and then catch a train to Madrid in the late afternoon. In the end it turned out to be a nice, unplanned side trip, which we could afford to make as we had an extra day on our interrail pass anyway.
Night train potential: There used to be 'Trenhotel' night trains to Galicia, travelling between Vigo/A Coruña and Barcelona/Madrid. Any of these connections would have been helpful for us, but just like the international night trains to Portugal, these trains have been suspended indefinitely since March 2020. An even more helpful connection would have been the 'Trenhotel Sud Express' service from Lisbon to Hendaye on the French Atlantic coast. This would have alleviated the need of going back to Madrid/Barcelona altogether, providing a much more direct route back to Germany. There has been some talk of Portugal's CP wanting to reinstate the service to France, but so far it seems like Spain's Renfe is unwilling to cooperate. Overall, our experience highlighted that to make international rail trips to Portugal viable, reintroducing night trains to Madrid and Hendaye is absolutely crucial. Hendaye is linked to Paris by direct TGV in 4:30 hours, so with the night train, leaving Paris in the afternoon to arrive in Lisbon the following morning would become an attractive option.
Travel day 6: Madrid – Barcelona – Latour de Carol – Toulouse – Bordeaux
We left Madrid early in the morning on a high-speed AVE to Barcelona. From there, we took one of the gems of Spanish rail travel: a local Catalonian train connecting Barcelona with the French town of Latour de Carol. The second half of the trip provides spectacular views of rivers, mountains, and valleys as the train climbs up the Pyrenees. It's a wonderful way to travel from Spain to France, with one annoying catch: because this is a suburban/local service (despite the 3:30 hours travel time), it doesn't appear in regular timetables, for example on bahn.de or the interrail app. It's also a great alternative to the TGV to get from Barcelona to Paris, because a night train links Latour de Carol with the French capital every night. We were planning on taking this night train. However, when we arrived in Latour de Carol at around 17:00 o'clock, the small ticket office in the station was already closed, so we couldn't make an interrail passholder reservation for the train. No problem, we thought, we'd just hop onto the next regional train to Toulouse, have dinner, and board the night train to Paris there. Leaving Latour de Carol in a very modern regional train was just as scenic as the route getting there. Highlights included stopping at the highest standard gauge railway station in Europe – Porté-Puymorens, at 1,562 metres above sea level – as well as the 'Andorre L'Hospitalet' station, with the track coming within 2km distance of the Andorran microstate. Unfortunately, the single-track railway line meant that we racked up some delay while waiting at several stations for trains in the opposite direction to pass. We therefore only arrived in Toulouse shortly past 20:00, to find that the ticket office had already closed. With a lot of trial and error, we figured out how to buy interrail passholder reservations from the ticket machine. Now, the next complication awaited: the night train to Paris was booked out! A good sign for the popularity of the night train (in Toulouse, the trains from Portbou and Latour de Carol combine, so it's a very long train), and some more enforced improvisation for us. The departure board showed that beyond a few regional trains, there was an intercité to Bordeaux leaving that evening still. We were eager to return to Berlin as quickly as possible, which necessarily meant reaching Paris as early as possible the next morning. Since Bordeaux is linked to Paris by a high-speed line in around 2 hours, while Toulouse is not (the fastest trains between Paris and Toulouse go via Bordeaux), the choice was clear, and we arrived in Bordeaux for a rather short stay overnight.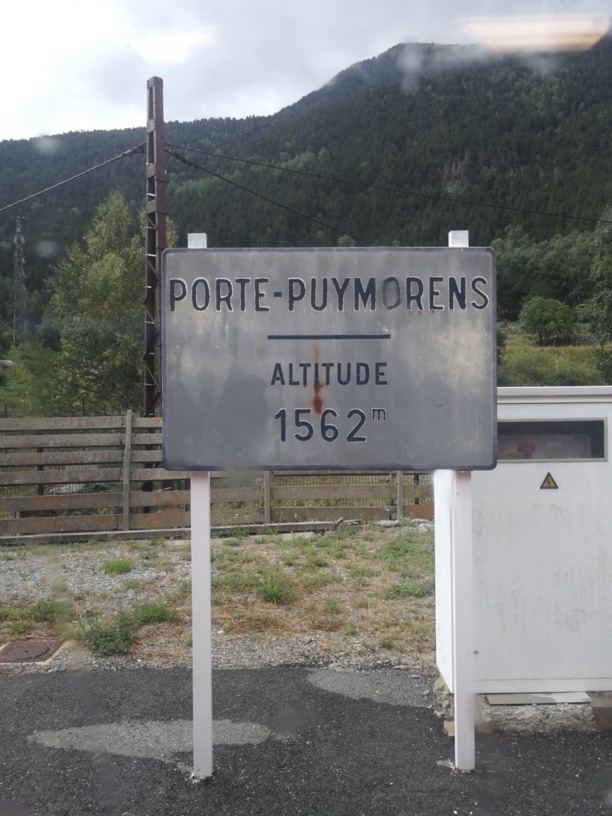 The highest standard-gauge railway station in Europe, in the Pyrenees
Night train potential: In this case of course, the night train between Latour de Carol and Paris via Toulouse already exists! In our intercité from Toulouse to Bordeaux I found a map of 2013, showing night train lines. This pointed out how much better the situation used to be. While the few night trains currently existing in France all originate/arrive in Paris, previously the extensive network went far beyond connecting the French capital with destinations in the south of the country. An excellent option for us would have been taking the night train straight to Strasbourg, for example. There is some hope: earlier this year, the French government published a study for potential new night train routes, with the transport minister declaring his ambition to have 10 night train routes running by 2030. One of the proposed routes links Strasbourg to Toulouse, Bordeaux, and (on a separate branch) Barcelona, each of which would have been ideal connections for us.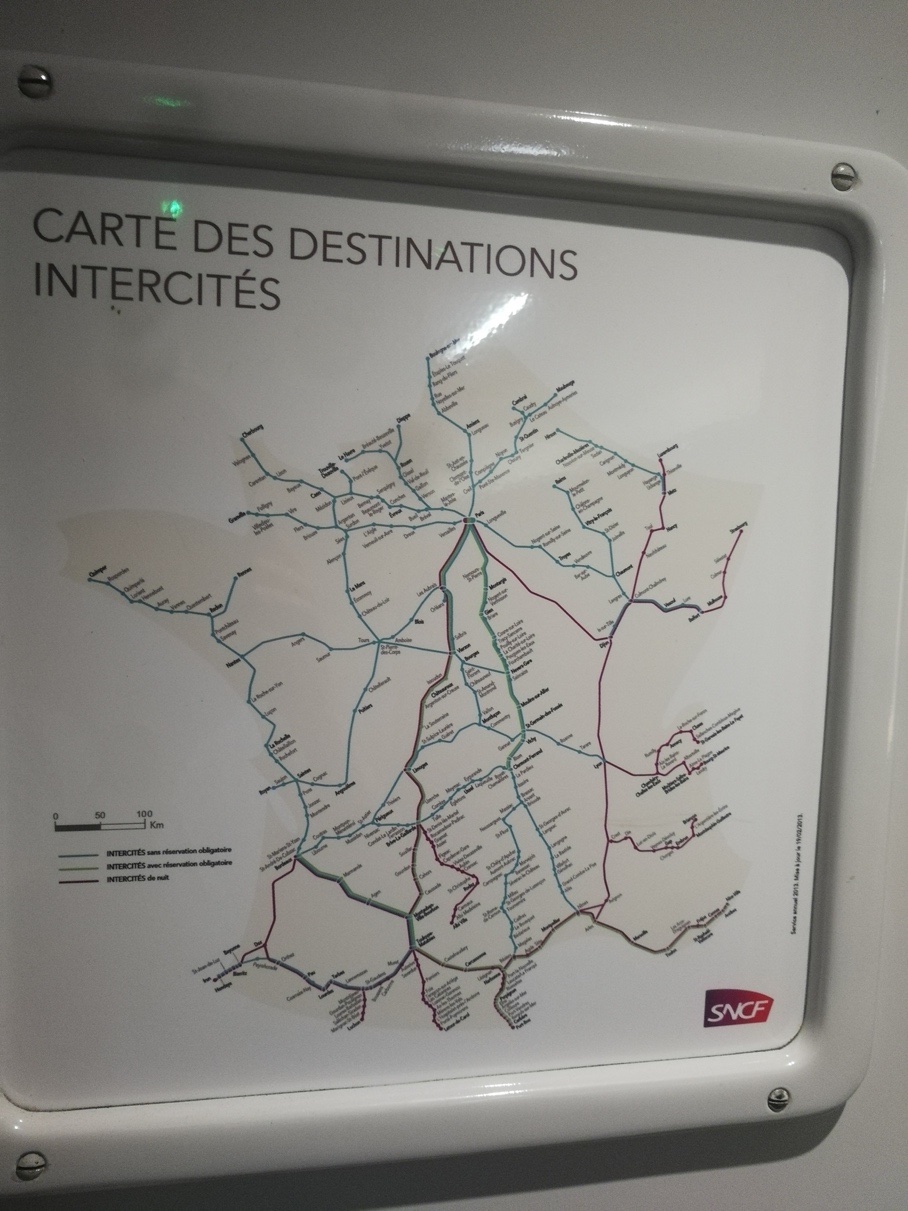 Purple lines represent night train routes in 2013…
Travel day 7: Bordeaux – Paris – Brussels – Cologne – Berlin
A benefit of our detour via Bordeaux was that we caught a glimpse of the impressive Bordeaux-St Jean station before boarding the express train to Paris – a non-stop service taking just over 2 hours. As often in Paris, we had to change stations for our onward journey – another reason why a night train bypassing Paris would have been excellent. Our plan was to take a Thalys service from Gare du Nord to Cologne and then an ICE to Berlin. However, the Thalys to Cologne was booked out, as was the next-best connection an hour later via Karlsruhe. Instead, we took a Thalys to Brussels (funnily enough, it then continued to Cologne), where we waited for an hour for the next ICE to Cologne. Once arrived there, we found out that the Cologne branch of the Düsseldorf/Cologne – Berlin train we planned on taking wasn't running. We could have waited for a later train, but eager to reach Berlin as early as possible, we found an interesting alternative: A regional train to Hamm, where we could connect to the Düsseldorf – Berlin train that was still running. A final interesting twist to our journey: the regional train from Cologne to Hamm was operated by National Express – a company better known for the coach services they run in the UK. We ended a fantastic 2-week rail journey in style, spending 3 hours in the ICE restaurant, before finally arriving in Berlin just after 19:00.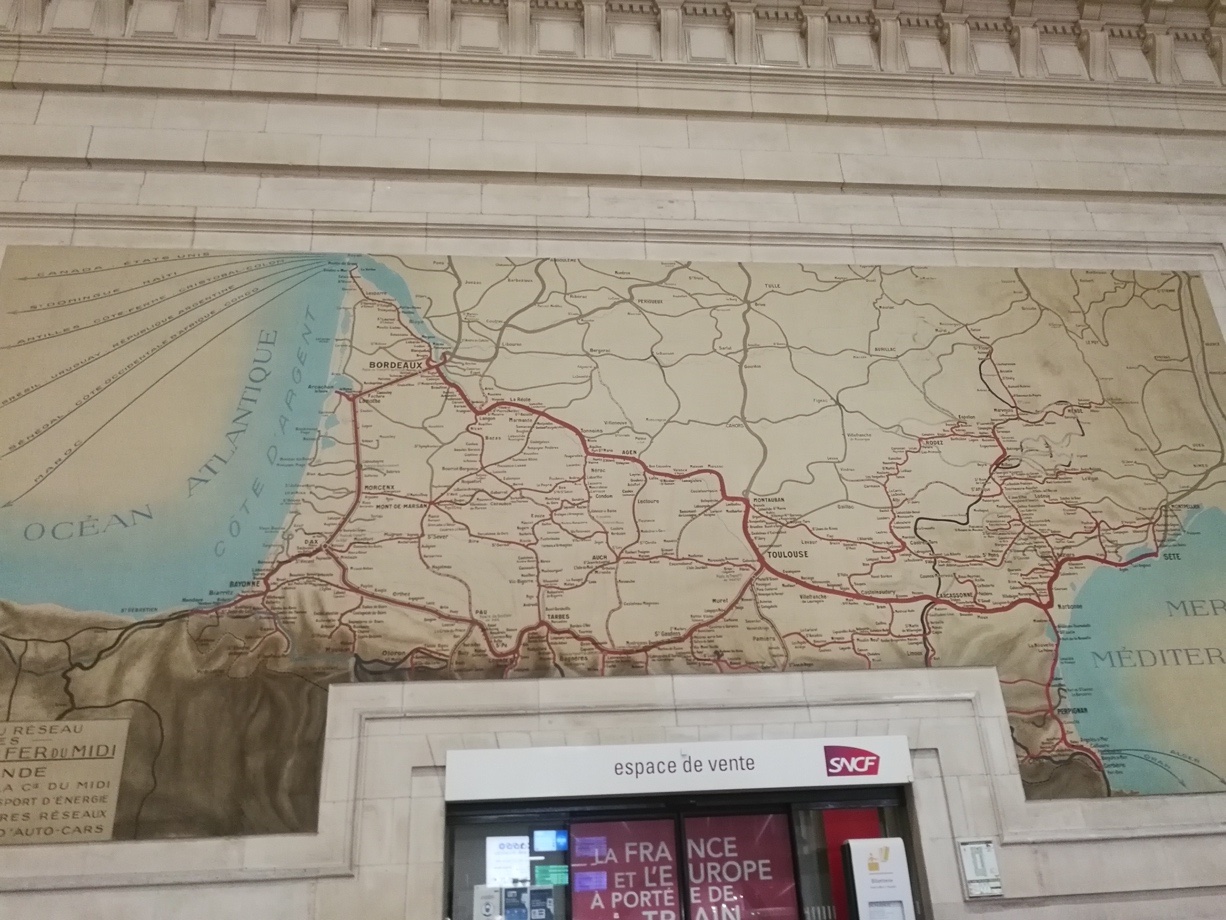 Impressive rail map of southern France at Bordeaux St Jean station
Night train potential: Other than Paris – Berlin, another route where a night train would make rail travel much more convenient is Brussels – Berlin. The quickest daytime connection with one stop in Cologne is just under 7 hours, better than Berlin – Paris but by far not competitive with air travel. A night train ran between Brussels and Berlin (as part of the Paris – Berlin train mentioned above), until it was re-routed to bypass Belgium in December 2008. In 2019, there were over 500,000 airline passengers each way between Berlin and Brussels. While this is less than some of the other routes discussed here, Brussels need not be the only stop – the train could either start in Paris or continue from Brussels via Amsterdam. Indeed, such connections look set to materialise relatively soon: The December 2020 announcement of new night train routes by four state-owned companies included Berlin – Brussels by December 2023; And the start-up European Sleeper has partnered up with the Czech private railway company Regiojet, aiming to launch a Brussels – Amsterdam – Berlin – Prague night train in April 2022. Hence, after 15-years of absence, Berlin – Brussels could become one of the very few night train routes with competition between two different operators – and perhaps two trains a night!
I had a fantastic time travelling thousands of kilometres through Germany, France, Spain, and Portugal by train. The interrail ticket makes booking such a journey relatively straightforward, bar the occasional train that doesn't appear on the interrail planning app, like the Barcelona – Latour de Carol suburban service. It's definitely an experience I would recommend because it's so much more than getting from point A to point B. Yes, I really enjoyed my time in Lisbon (one of my favourite cities), but without taking the train there, I wouldn't even have thought of visiting Madrid too. What a shame that would have been! Beyond the different stops on the way, I thoroughly enjoyed the train trip itself. We were treated to gorgeous views throughout our travels, and it's simply fantastic to see how landscapes and architecture change while looking out of the window on a journey spanning hundreds of kilometres. When you fly, you leave one place and a short time later find yourself somewhere completely different, with no feeling for the in-between. Travelling by rail allows you to appreciate the continuity and gradual changes on your way.
But it's not all roses. Travelling to Portugal by train has been made more than difficult by the lack of international connections. It is one of many places highlighting that cross-border rail links in the EU, including night trains, are sorely missed. Night trains are not only practical, but also have their own charm, which we experienced first-hand on our way from Paris to Portbou. Fellow passengers congregated in the corridor, chatting while staring into the darkness. This post has highlighted a few routes where night trains appear viable and would make rail travel so much easier – a vital step to move towards a carbon-neutral transport sector.